Pontoon Boat Rental Pick Up Locations
Typically, half day boat rentals have 2 pick up locations: Shoreline Park and Oriole Beach  Please call for custom pick up locations for half day rentals. Half day pick up locations marked with an (*) below. Custom Pick Up Location: Your House! If you own or have rented a house on the water just let us know and we will deliver the boat right to your dock. Some locations may have a delivery fee, please call us for details. Tell us where you want the boat and we will get it delivered!!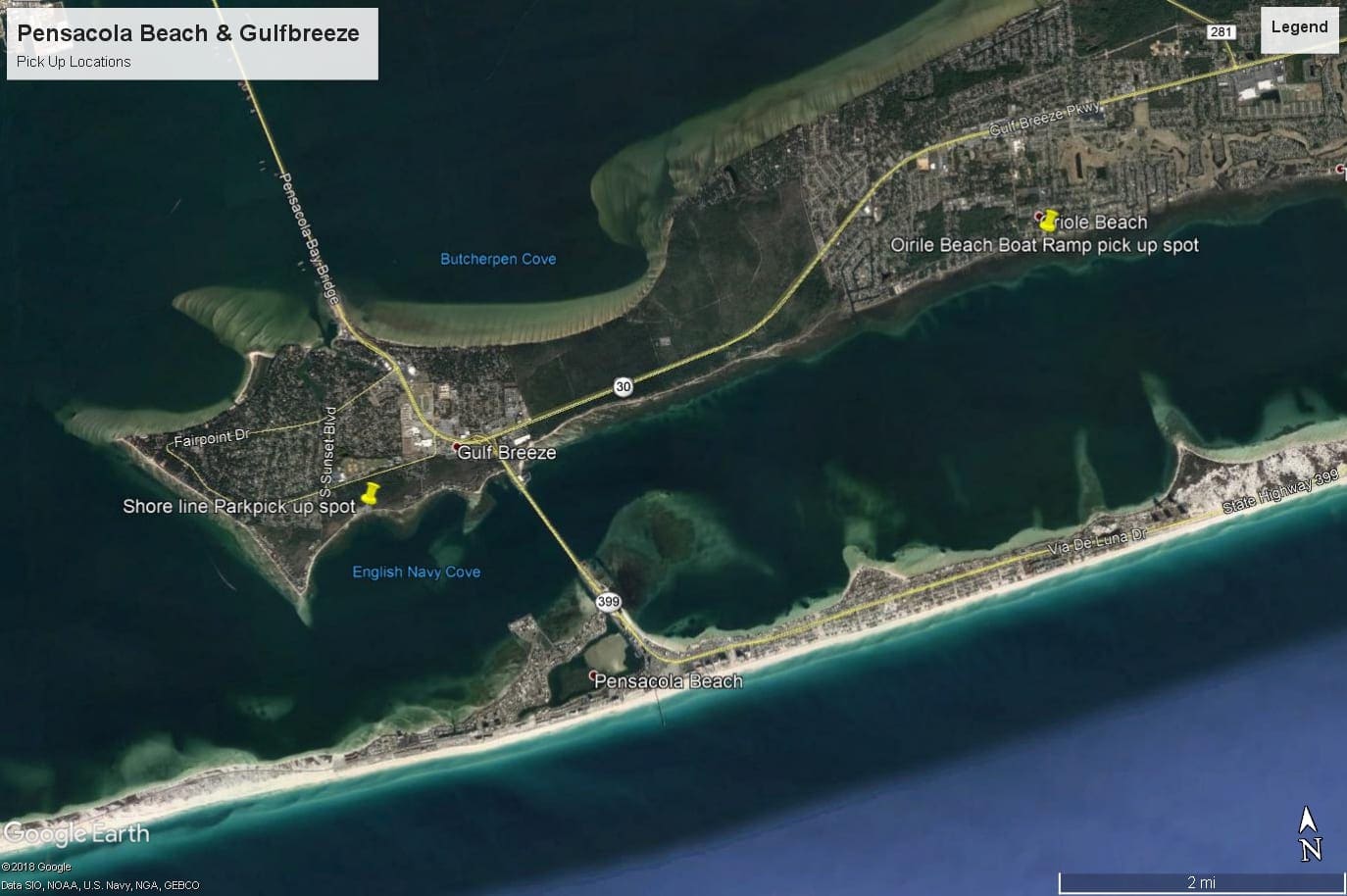 *Shoreline Park and Boat Ramp: Located at 1070 Shoreline Drive, Gulf Breeze, FL 32561. This is the best pick up location for Pensacola Beach / Gulf Breeze. There is ample parking, nice restrooms and easy access for loading your favorite beach and water toys and coolers. *Oriole Beach Boat Ramp: Located at 3165 Linden Ave, Gulf Breeze, FL 32563. This is the best pick up location for folks in the Gulf Breeze area. It has lots of parking and easy access to Santa Rosa sound. Please Note: If you go under Three Mile Bridge (Pensacola Bay Bridge) you must cross under the center of the large hump to stay clear of construction of the new bridge on the west side as there are submerged concrete pilings. Visit FDOT's website for further details.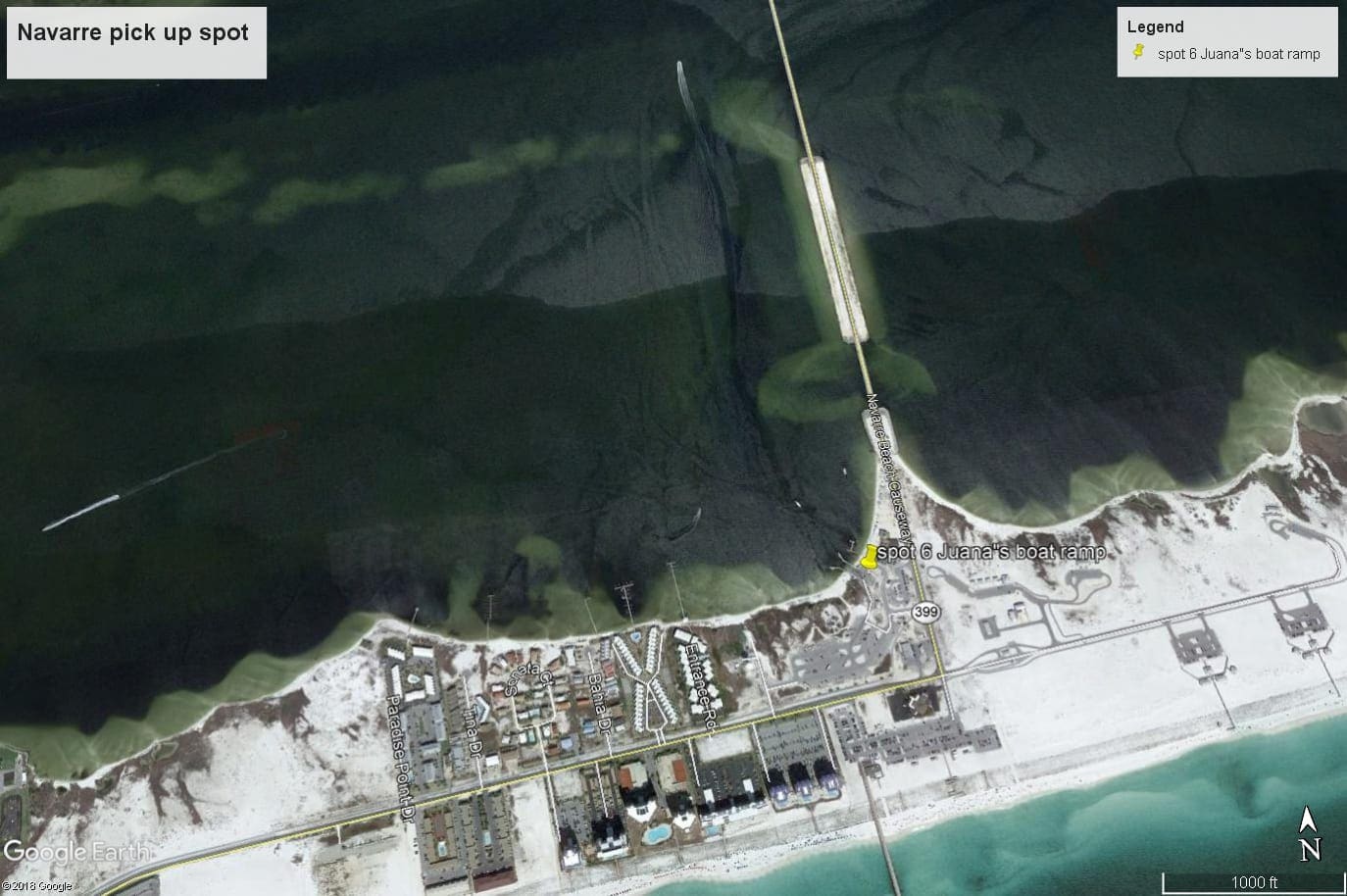 Navarre Pick up Location
Navarre Beach Boat Ramp:  Located at the only spot to pick up in Navarre.  It is a great location with ample parking and nice restrooms. There are also lots of fun activities, food and adult beverages right next door at Juana's Pagodas.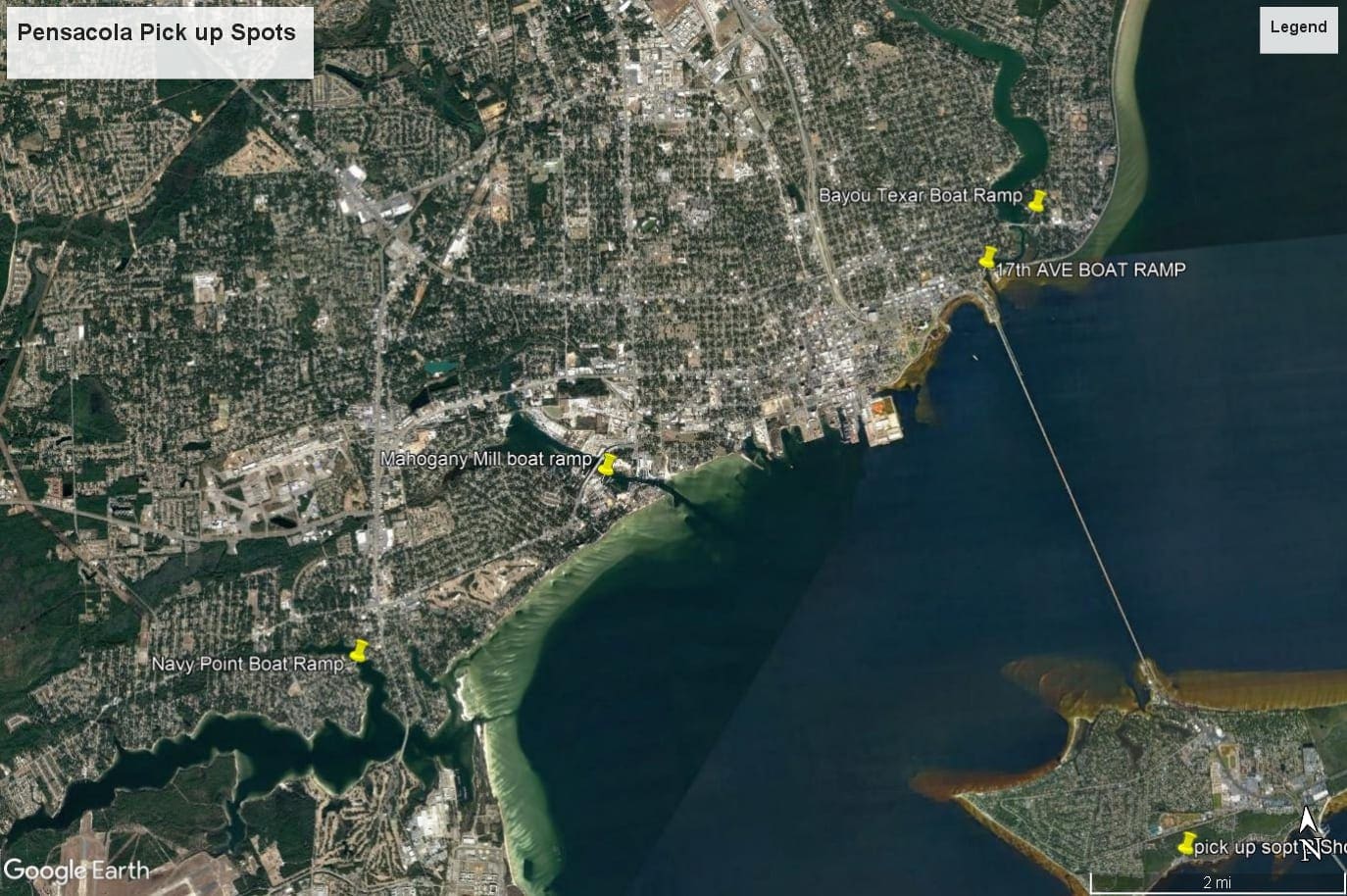 City of Pensacola Pick up Locations
Navy Point Boat Ramp: Located at a great pick up spot for all you military folks from the area or anyone living on the west side of town. This location is also the closest pick up spot for anyone renting from the Perdido Key/ Orange Beach area. Located very close to NAS Pensacola you will not have to battle the vehicle traffic to visit Pensacola Beach. Just pick the boat up close to NAS and travel where you like via the water ways!  This pick up location has a $15 dollar delivery charge.  Mahogany Mill Boat Ramp: Located at one of the best pick up spots in Pensacola with easy access to Pensacola Bay and surrounding waters. If you are visiting or living in downtown Pensacola this is the best pick up spot for you. We will have the boat sitting on the end of the dock when you arrive and you can go enjoy your day on the water.  Bayou Texar Boat Ramp: Located at another nice pick up spot for Southern Pensacola, located right on beautiful Bayou Texar. This is a well-protected pick up location for windy days that has lots of parking.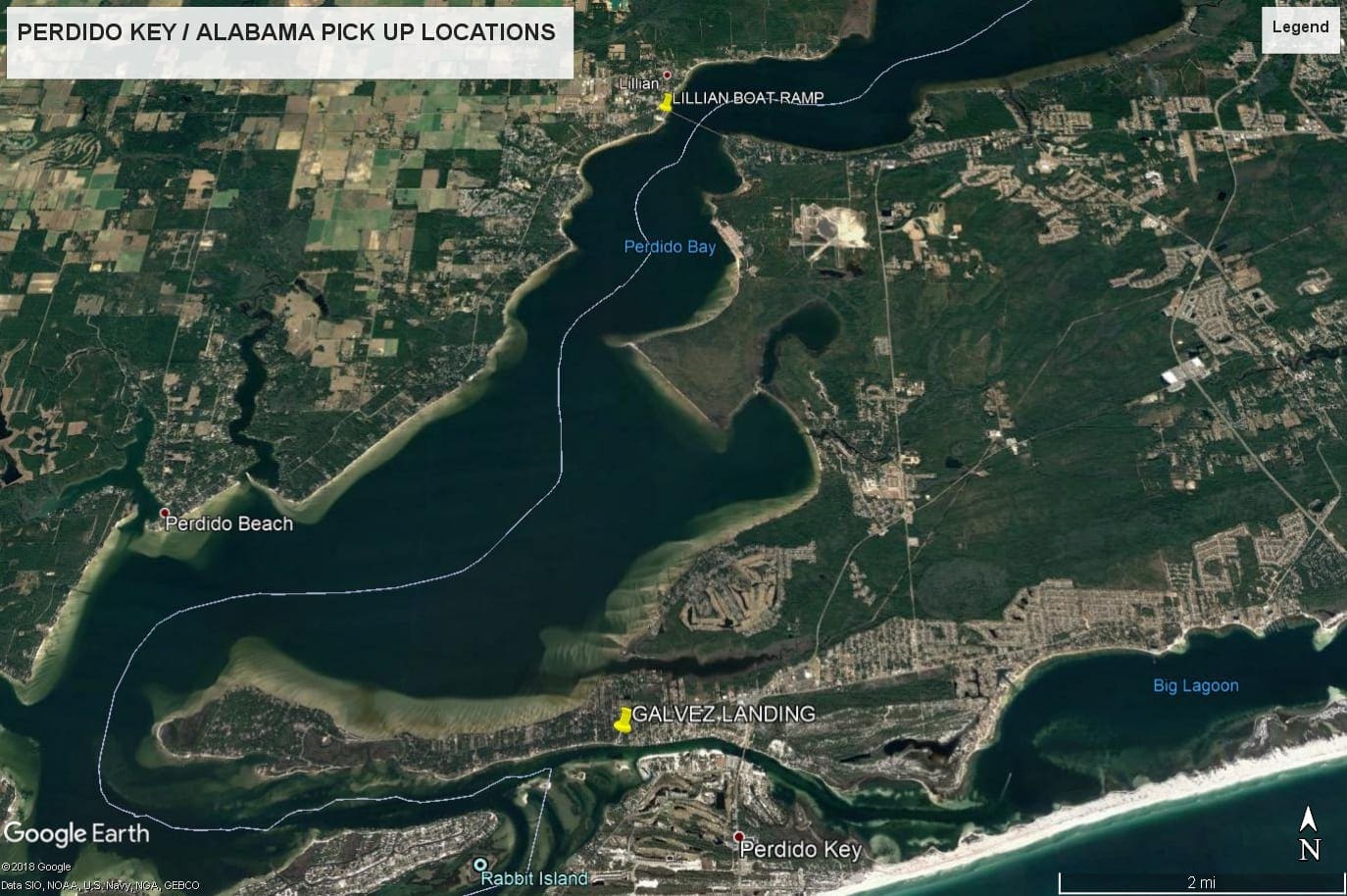 Perdido Key & Alabama Pick Up Locations
These two locations will have a delivery fee of $30 dollars in addition to rental costs.
Lillian Boat Ramp: Located at a great place for anyone visiting or living in Southeastern Alabama. There is lots of parking at this location and it has direct access to Perdido Bay and surrounding waters. Galvez  Landing: Located at another great location for pick up with direct access to the Intracoastal waterway. You can head west into Alabama or east into Big Lagoon. This is a good pick up spot if you are wanting to visit Fort McRee for the day. In addition, check out our Things to See page for recommendations on adventures in the Pensacola Beach area.